Together with a long academic involvement in Japanese language teaching methodology, Mary Taguchi has simultaneously had much involvement in the history and function of Japanese indigo-dyed cotton textiles.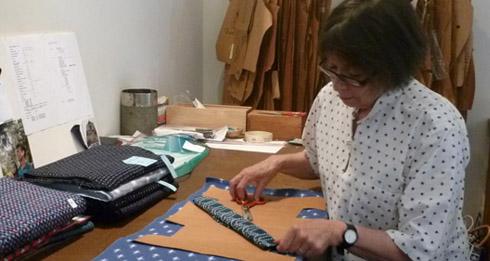 Mingei, the crafts movement of the 1920s in Japan, acknowledging the unconscious arts of ordinary people, has empowered this side of her work. Seeing the beauty of simple, everyday, utilitarian objects, whose forms were arrived at intuitively, led Mary to a collection of her own indigo dyed cotton textiles that has inspired her work for years.
Travelling extensively and regularly in Japan, Mary has established working relationships with traditional dyers, weavers and stencillers, all working in small family studios preserving the accumulated knowledge of generations of craftspeople. In particular, Mary has been instrumental in encouraging weavers towards a revival of old patterns.
Bringing these cloths to her studio in Lake Bathurst, close to Canberra, Mary produces shirts, jackets, vests, hats, bags, scarves, cushions, table mats, runners and table napkins from the new and old cloths. Collections of old patterns, humble garments and cloths have been a guide to her work and form part of her designs. It is the treatments of indigo dyed cotton cloth, within Japan's historical framework, that drive her; woven, stitched, tied and stencilled, the narrow bolts of cloth become wearable and useful items of functional simplicity and modest elegance.
The effect of these country indigo-dyed cottons, fresh and unique in themselves, is heightened by the fact they can be used in ways not originally intended.
"Creative, cultural crossing over can be unique and invigorating;  one experiment leads to another and the result breathes new life and force into both the house, the table, one's clothing and the fabrics themselves. It is in the using that you realise how beautiful something is".
Hence Mingei friends return year after year, often wanting just the same shirt again… and again.