News & Special Events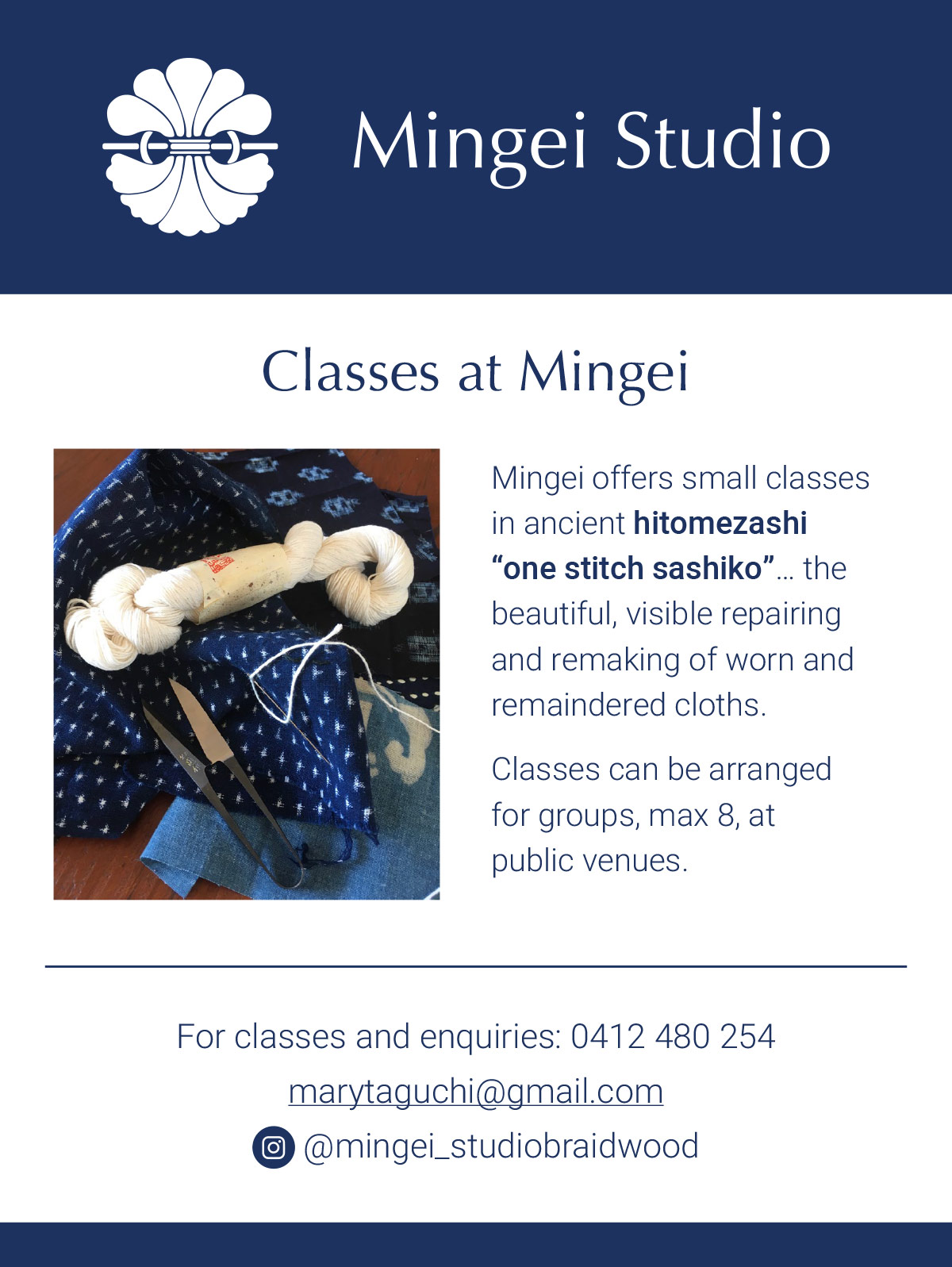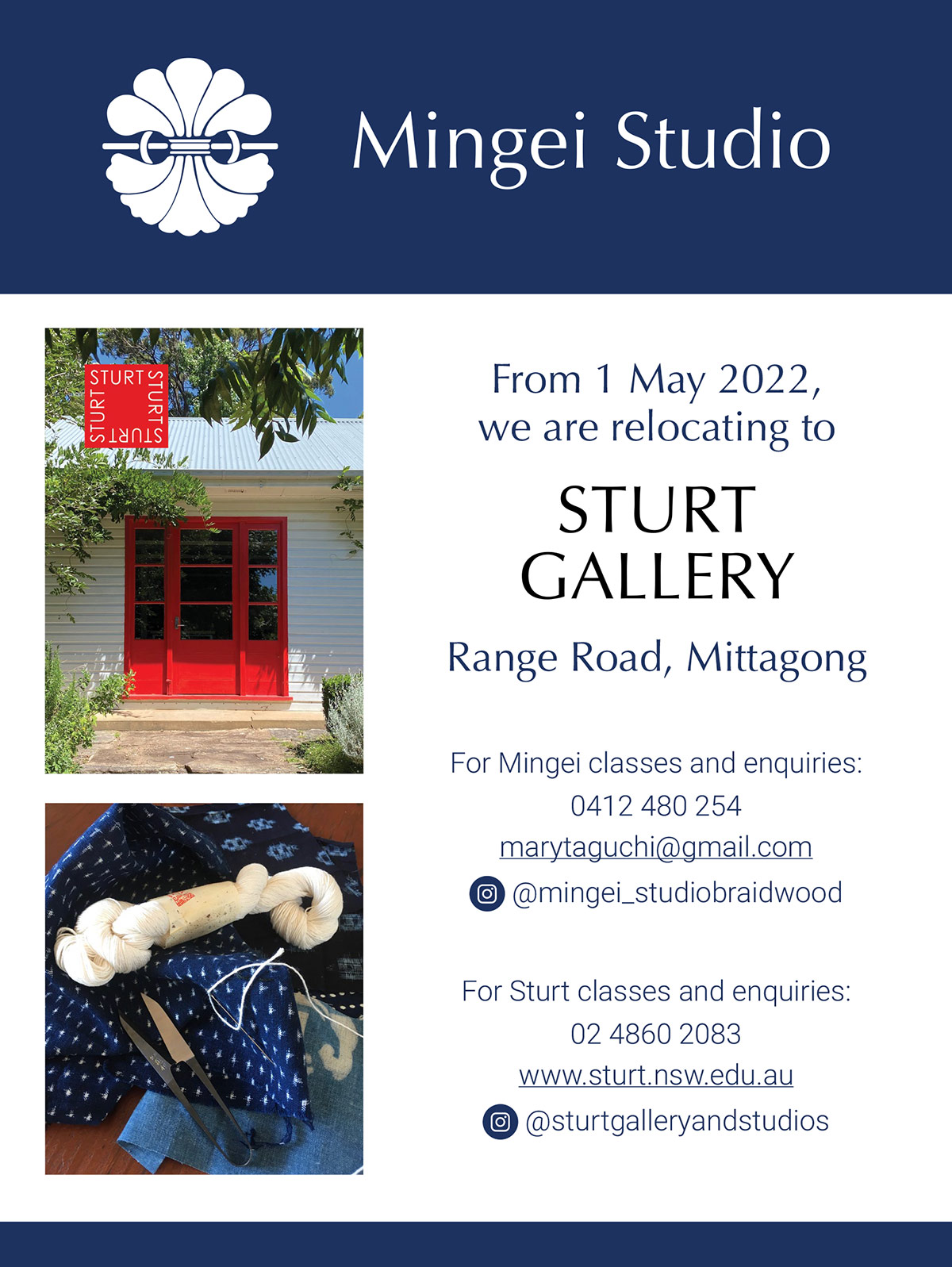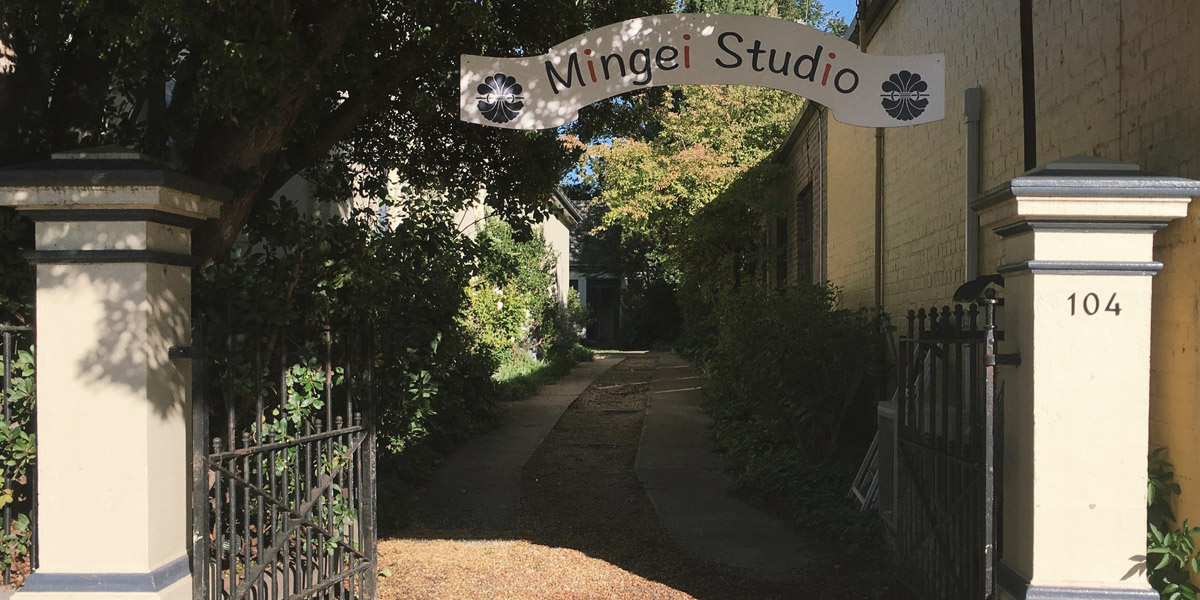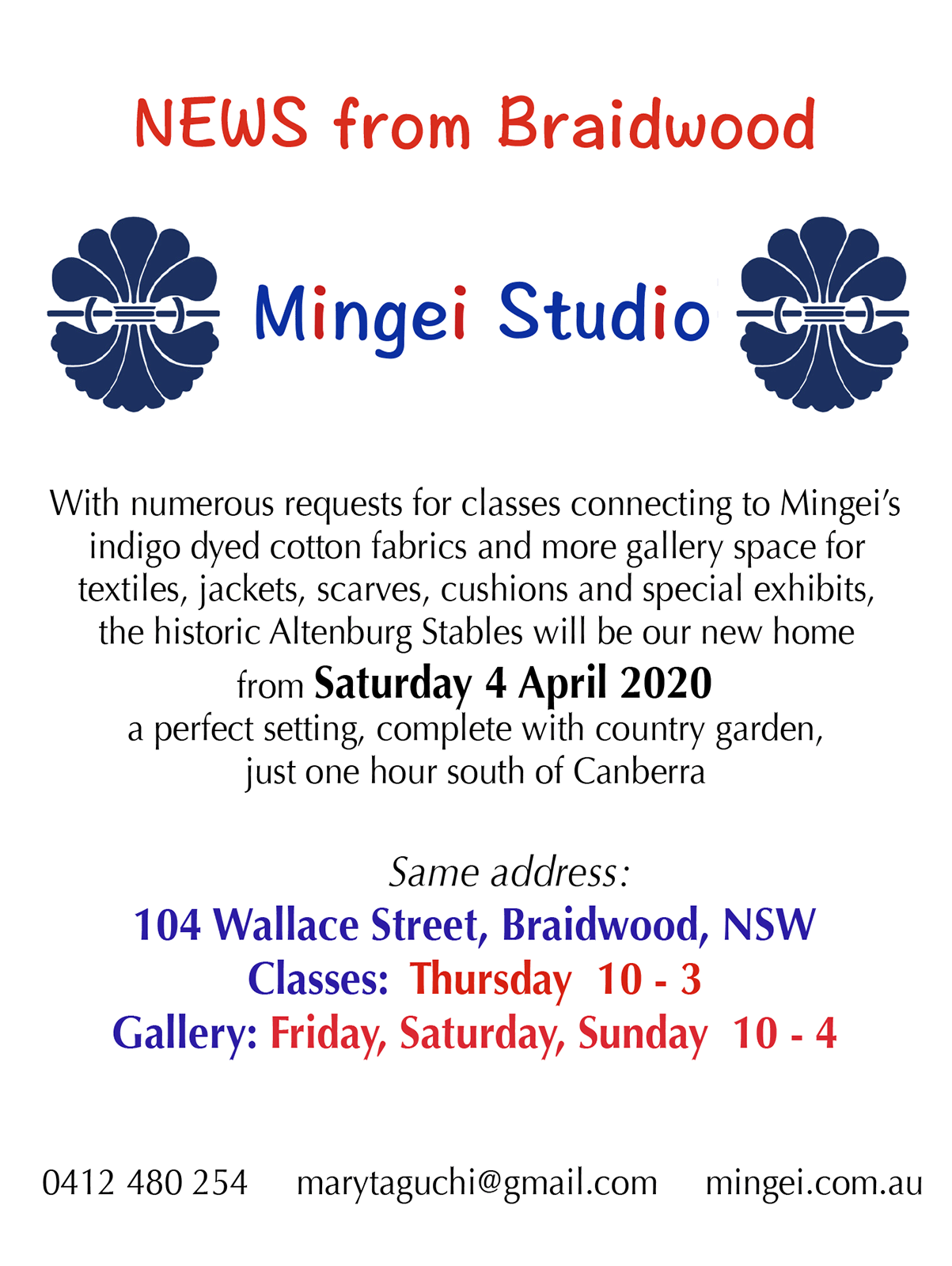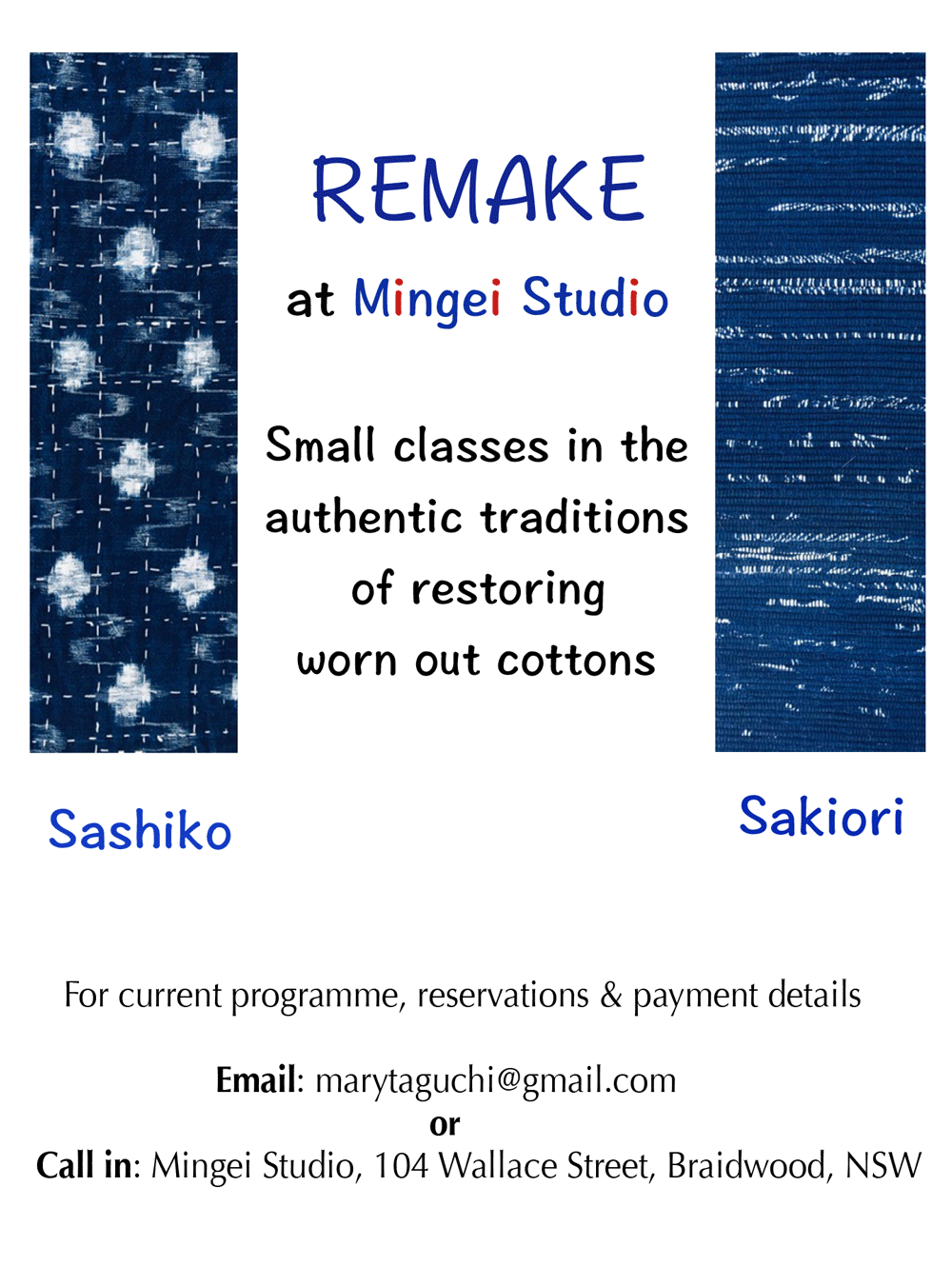 MARY TAGUCHI / MINGEI

on beautiful one-off jackets, cloths
Exhibition opens 6pm Friday 13 September 2019
at Altenburg & Co, Braidwood NSW
Exhibition continues until Sunday 6 October 2019
104 Wallace St Braidwood NSW,
Phone (02) 48422545
10 - 4pm Friday to Sunday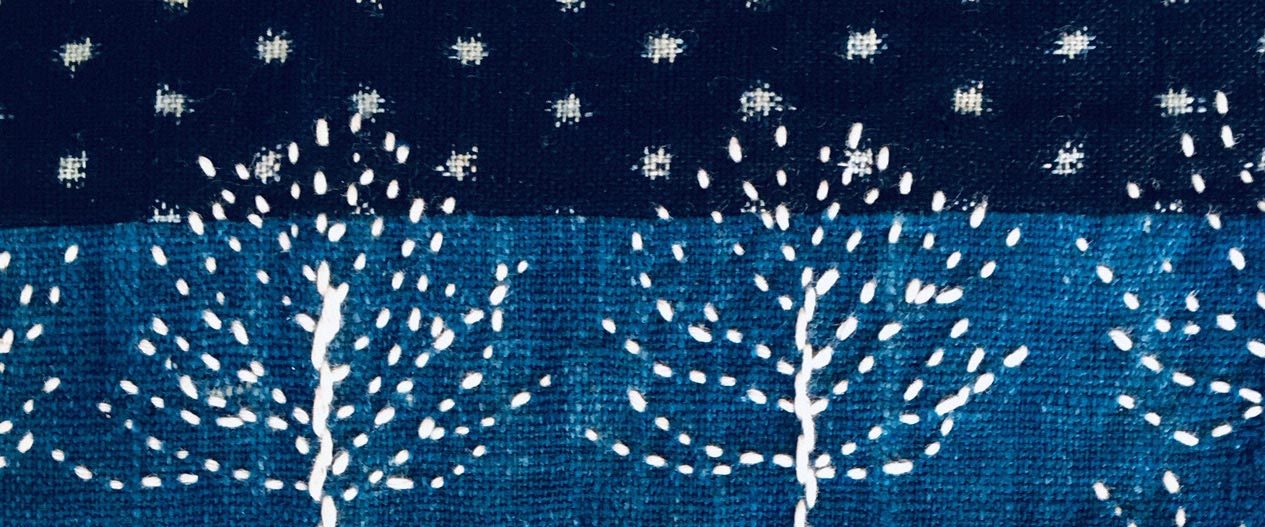 The narrow bolt of Japanese cloth is indeed a clever thing.
Kimono have been made from a single bolt of cloth, in one size, for thousands of years, with virtually no waste.
In designing and making Mingei jackets, the aim has always been the same: no regret for wasting or misusing, "mottainai".
Now, just 9 garments have been carefully chosen, predominantly one size only, with a message that dressing can be simple and instant... beautiful cloths over a solid colour base, with a
shibori or kasuri scarf tossed on top.
Please join us for a very interesting event: specially made jackets, vests and scarves, kasuri cloth for sale by the metre... and delicious Japanese omochi cakes at the opening on Saturday 1 September, at 2pm.
KA
S

URI
A WONDROUS WEAVE
THEN..... NOW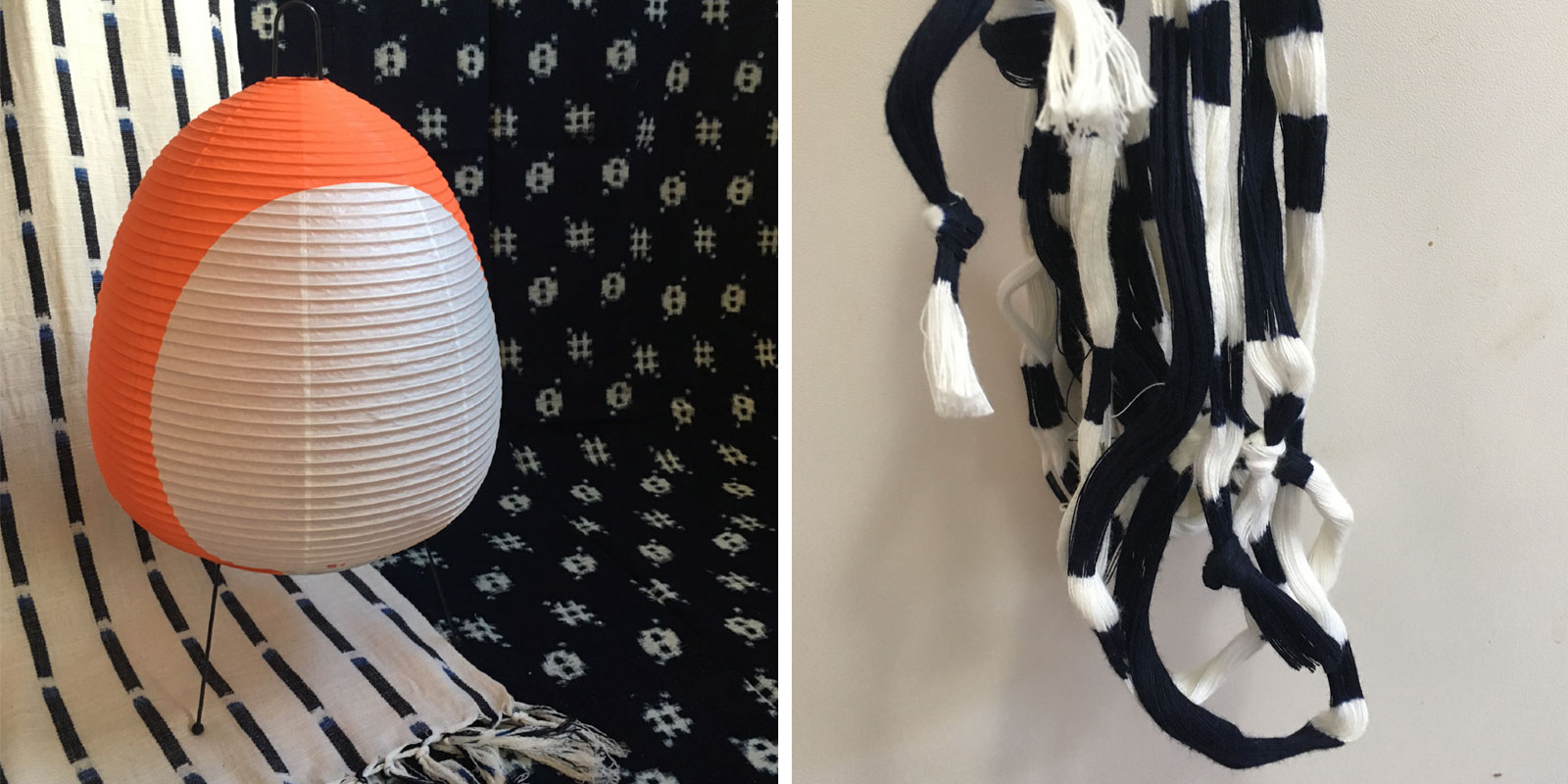 Mingei Australia invites you to an exhibition of:
Beautiful cloths, lighting & furnishing
Mary Taguchi
Exhibition opens 2pm Saturday 2 September 
at Altenburg & Co, Braidwood NSW
Exhibition continues until 9 October, 2017
Altenburg & Co
104 Wallace St Braidwood NSW, 02 48422545
10 - 4pm Friday to Sunday
Drawing from Mary's textile collection of historical Japanese cottons, some pieces will be specially available as part of an upcoming exhibition at Altenburg and Co in Braidwood NSW.
This exhibition will be showing both old and new indigo dyed woven kasuri.
"I never cease to admire the incredible work involved in the making of this wondrous weave. The old cloths tell the story of villagers who tie and dye threads into intricate patterns before weaving the cloths needed for life, as clothing, as bedding. The new cloths are all from my contact with a present day Japanese pedlar, and form the seating on old dining chairs found in an Australian country town."
Coupled with the superb sculptured paper lighting of the remarkable Isamu Noguchi (1904-1988), the exhibition will be a joy for anyone with interests in indigo, cotton and paper and the timeless crafts of humble people.
Stories of Cloth and Clay for the Everyday
Old and new Sakiori Textiles by Mingei Australia
Ceramics by Sandy Lockwood
Exhibition continues until 10 October, 2016
Mary Taguchi: Cloth
Sandy Lockwood: Clay
Altenburg & Co
104 Wallace Street, Braidwood, NSW (02) 4842 2545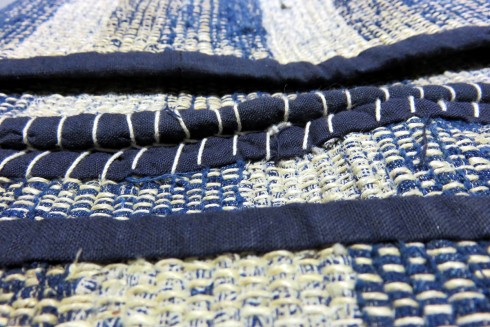 SAKIORI, 'torn woven'
An exhibition of beautiful, textured cotton cloths derived from early trading routes along the northern coast of Japan.
Originally woven with hemp and torn cotton strips, Mary Taguchi's collection has stunning old and new sakiori cloths, for your table, your furniture.
You are invited to an exhibition and sale of:
OLD AND NEWSAKIORI TEXTILES FROM MINGEI AUSTRALIA
CERAMICS BY PRUE VENABLES
Japanese Prints from the Collection of David Button
21 October to 21 November 2015

JOSHUA McCLELLAND PRINT ROOM & RATHDOWNE GALLERIES
310 Rathdowne Street, Carlton North, 3054
Gallery Hours:  Tuesday to Friday 11 – 6.  Saturday 12 – 5.

Tel: 03 9347 1854 E:
art@rathdownegalleries.com.au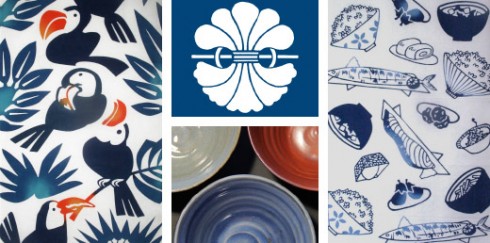 Mingei Store House
invites you to an exotic collection of new tenugui and bowls and to celebrate the year with a glass of prosecco
Friday 12 December 2014
5pm - 8pm
Village Square Bungendore NSW

Mary Taguchi's Timeless Much-Loved Work With Japanese Indigo Dyed Cottons Is Coming To Melbourne
Tuesday 8 April – Saturday 26 April 2014
Inspired by the aesthetic of Japan, sturdy country clothing and the unusual narrow bolts of cotton cloth, Mary combines traditional and contemporary design to produce beautiful, functional, elegant garments from her Mingei Australia studio.
You are invited to the first exhibition and sale of these unique shirts and jackets in conjunction with the exhibition of Japanese prints at Joshua McClelland Print Room & Rathdowne Galleries.

JOSHUA McCLELLAND PRINT ROOM & RATHDOWNE GALLERIES
310 Rathdowne Street, Carlton North, 3054
Gallery Hours:  Tuesday to Friday 11 – 6.  Saturday 12 – 5.
Sunday 13 April only 12 – 5.  Closed over Easter Break.
Tel: 03 9347 1854 E:
art@rathdownegalleries.com.au
Pages